If any of you actually know me outside of my blog I'm sure you aren't surprised that this has become a topic for a p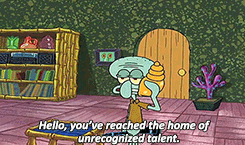 ost. SpongeBob holds a very special place in heart and has even impacted sense of humor. In a few weeks I will consider myself lucky enough to meet the man who does his voice (Tom Kenny)! So I figured what a better way to get excited. Below I'll leave my top five favorite SpongeBob Squarepants moments.
Obviously there are a lot of golden moments in the series. These are just the top five that come to my mind. As always thanks for reading/watching and have a great rest of your weeks!